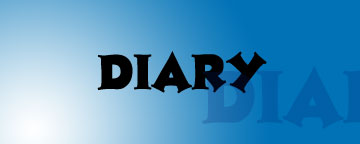 uh oh, this is just part of my webpage full of diary writings crap. This is me journal you know. (^^)
Yeah, I know. It's boring. (but I hope not for long)
---

3/25 ~ At last! a time for update! I wish I can update this thing everyday! By the way, I am having a new portion of the site! the countdown for my comics webpage! I also added a few touches of the front page of the website! heheh, just for fun! (by the way, I had a new haircut again!!!

3/24 ~ Vacation time!!!!!!!! Wait! I have to think first of what to put in my site!!!!

1/26 ~ I am still drawing the Front site illustration!!
1/25 ~ HAPPY NEW YEAR EVERYBODY!!! Akemashite Omedetou Gozaimasu!!!! Yeah! I updated my site now! I have drawn pictures in the paint bbs these past few days! It is really fun! you should try it! Oh, Happy Birthday to Wisdom celebrants! [ok, belated] (Rannel & Nevin!) Yeah!!! Oh, by the way, I have tried BoA! and she's one hot ladeeeh!!
---