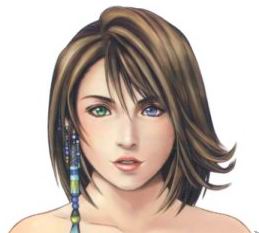 Yuna
Age:17
Height: 161 cm
Birthplace: Bevelle
the daughter of the late Summoner Braska, has attained her father's place. After her father's defeat of Sin, Yuna pleaded to follow her father's footsteps by choosing to become a Summoner. (Summoners are chosen ones that can call an "Aeon" or monsters that can help them defeat Sin). Sin is an entity that causes Spira (their world) deaths. With her companions behind her, she can bring the people the "Calm" they wanted.
Yuna appears in Final Fantasy X for PS2. For the first time, they featured voices.
Yuna was voiced by: Hedy Burress (NA version) & Mayuko Aoki (Jap Version)
*I like what Tetsuya-san had created. Well, as a result, a breath-taking female lead character of another Final Fantasy. When I played the game, Yuna was very calm-looking. Notice, that Yuna has this two colored eyes. One green one blue, as the game says that it was the mark of a chosen summoner. And getting to the clothes, Tetsuya-san altered the traditional Japanese kimono to a real fantasy costume. As you can see, the kimono's sleeves was cut to separate the arm piece to the shirt. The kimono was paired with a long skirt and a traditional "obi". The only thing is, Yuna is wearing boots. Weird combination, yet very appealing.